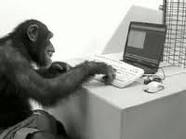 Ever have a great ham-related article you wanted to see posted on the website but didn't know who to contact?    
Wonder no longer! 
You can email your article, along with any pictures  to webmonkey@portcars.org.   One of our well-trained monkeys will be standing by to review the content and post it.  Amazing what can be accomplished with a few bananas and some beverages.
  Similar to newsletter articles, we are looking for ham-relevant content.   This can be information from local hamfests, to pending legislation that may affect the ham community.   John KD8MQ, our newly appointed Web Editor, will be continuing to enhance the site's content and functionality.   If you have any suggestions for the site, email the webmonkey@portcars.org and we'll see what we can do!