I thought the Open House went well. We had quite a few hams and non-hams, members and non-members show up to see the site and talk about ham radio. We also handed out a number of membership applications. I would like to thank very much those that helped with the event cooking, setting up and cleaning up. It would not have been possible without your help. Mike did a great job cooking and Rick did a great job demonstrating equipment. I received several emails during the event yesterday and today from people that could not attend asking if we would do one of these again soon. I think we just need to let people know that all our GOTA days are Open Houses. To that end I plan to use social media as the tool to let people (including non-hams) know about upcoming events including GOTA events, meetings, classes and other fun stuff. We can all be proud of our site. We have said this before but it is worth repeating. One of PCARS's biggest assets is the club site.
I want to send a special shout out to Amy Leggiero (KD8SKI). She did a great job updating our bulletin boards. They actually contain some great and current information. Thanks for the update Amy. It is now up to us to keep these current.
I have received several emails from those of you interested in the Extra/Electronics class. We now have a few details. It will be held 11 consecutive Wednesdays from 7 PM to 9 PM starting January 10, 2018. We will also be scheduling a couple of Saturday build days for the longer labs. We will work out these Saturday dates during our first meeting. I have started assembling the parts for all the kits we will be using. Therefore, I need to have a better idea of the number of you that will be attending. I currently have a list of those who have sent me emails. That list is shown below. If you are interested but not on this list, please send me an email. Use
jawilson@j3solutions.com
for those messages.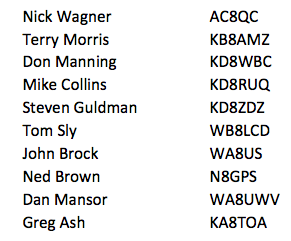 Steve is still working on our email issues. We have lost a lot of messages that were forwarded though our mail systems. These emails were addressed in the form
callsign@portcars.org
. QSTs appear to be working. This is a lot of work for Steve; I ask you to be patient. We will get it working.
I now must return to my preparations for the cold times that are coming. At least where I am it is still dry and warm. Continue to have fun with this great hobby.
Jim, AC8NT