tr>img-map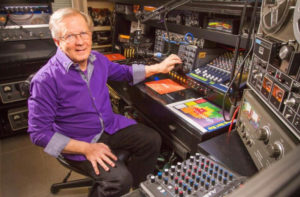 Nationally acclaimed Amateur Radio operator Bob Heil will present at Penn State Shenango
Bob Heil, licensed in 1956 as KN9EID became an avid experimenter and builder of VHF equipment. One of the first to do serious moonbounce and was one of the first SSB stations on 6 and 2 meters in 1958. As a professional theatre pipe organist, Heil was also learning to voice and tune massive theatre pipe organs which taught him how to listen. In 1966 he started a retail music store and through his intense ham radio background and listening abilities, Heil was able to repair guitar amplifiers and build massive arena sound systems for some of the world's top performers. He invented the first high powered 'Talk Box' for Joe Walsh and Peter Frampton. His invite from the WHO to design and build the first quadraphonic PA made rock history. It was some of that equipment that landed Heil Sound in the Rock and Roll Hall of Fame, the only manufacturer invited to do so. Heil continues to build high quality microphones for amateur radio and well as professional musicians. You can find him on many of the ham radio frequencies each night – many times operating some of his original 1956 AM and early SSB equipment from his station lab. Heil is constantly designing new and exciting audio products for his beloved ham radio friends.
Bob just received an Honorary Doctorate Degree from the University of Missouri for his years of bringing new technologies to the Amateur radio and Professioanl Sound industries.
Bob's Elmer session at 6 PM (to 7 PM) will talk about how audio is so important and how to set up your radio TX and RX for best performance.
MCARC business meeting from 7 PM to 7:30 PM
Then Bob Heil talks "What Makes Ham Radio the BEST Hobby in the World" 7:30 to 8:30 PM
MCARC Meeting at PennState Shenango
November 27, 2018