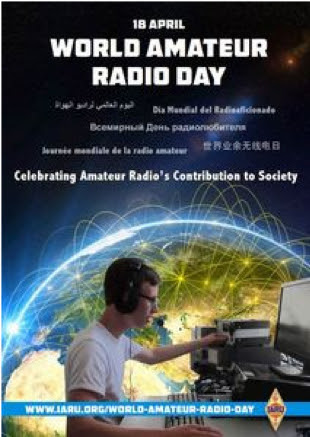 Thursday, April 18, is World 
Amateur
Radio
 Day (
WARD
), this year marking the 94th anniversary of the International 
Amateur
Radio
 Union (
IARU
), which was founded in Paris in 1925. Each year, WARD celebrates 
Amateur
Radio
's contribution to society. Groups in the US and around the world will celebrate WARD 2019 with on-air activities.
"I am pleased to extend my greetings for World
Amateur
Radio
 Day," IARU President Tim Ellam, VE6SH, said. April 18 is the day for all of 
Amateur
Radio
 to celebrate and tell the world about the science we can help to teach, the community 
service
 we can provide, and the fun we have. I would encourage all 
radio
 amateurs to join in the celebrations and promote 
Amateur
Radio
 on the air or in your community."
Amateur
Radio
 experimenters were the first to discover that the shortwave spectrum was not the wasteland experts of the time considered it to be, but a resource that could support worldwide propagation. In the rush to use these shorter wavelengths, 
Amateur
Radio
 was "in grave danger of being pushed aside," the IARU's history notes. 
Amateur
Radio
 pioneers met in Paris in 1925 and created the IARU to support 
Amateur
Radio
 around the globe.
Two years later, at the International Radiotelegraph Conference, 
Amateur
Radio
 gained allocations still recognized today — 160, 80, 40, 20, and 10 meters. More bands have followed, and the IARU has been working to defend and expand 
Amateur
Radio
 frequency allocations ever since.
From the 25 countries that formed the IARU in 1925, the IARU has grown to include 160 member-societies in three regions. IARU Region 1 includes Europe, Africa, the Middle East, and northern Asia. Region 2 covers the Americas, and Region 3 is comprised of Australia, New Zealand, the Pacific island nations, and most of Asia.
The International Telecommunication Union (
ITU
) has recognized the IARU as representing the interests of 
Amateur
Radio
. Groups are encouraged to promote their WARD activity on social media by using the hashtag #WorldAmateurRadioDay 
on Twitter, Instagram, and Facebook. 
Visit
 the IARU World 
Amateur
Radio
 Day web page for a listing of on-the-air activities.
From the ARRL
For those that have difficulty with the hyperlinks, you can copy the following link to your browser.