Frequency Bands Chart
Information about the US Amateur Bands is available on the Frequency Allocations page as well as the frequency bands chart.
NOTE: The new 630-meter and 2200-meter bands are not yet available for Amateur Radio use. The effective date of the recent FCC Report & Order granting these allocations has not yet been determined, and until the start date has been set, it is not legal under an Amateur Radio license to transmit on either band. The FCC will publish a notice in The Federal Register "announcing such approval and the relevant effective date." ARRL will announce the UTC notification procedures and the effective date to use these new bands as soon as these are known.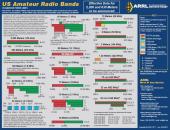 Printing the chart
Download and print PDF documents using Adobe Reader.