Club Info
Contact Us
General questions about PCARS: EMAIL
QSL's for club station K8BF or KD8CKP: EMAIL
Website issues: EMAIL
Email content you would like posted on the website: EMAIL
---
Club Meetings
PCARS meets the 2nd Monday of each month. All are welcome. We meet at a full-service restaurant, so many people come early (around 6pm) for dinner and conversation before the meeting, and to catch up with friends. We keep the business end of things to a minimum, so we can concentrate on ham radio FUN!

Meetings begin 7pm SHARP
---
Membership
Membership in PCARS is open to anyone interested in Amateur Radio, whether you are licensed or not. Download this Membership application. Bring the completed form to the next PCARS meeting, or send it to the Club Secretary.

---

Pay your Dues With Paypal!

You can now pay your dues via Paypal. Just click the button at the right.
---
PCARS Club Site
| | |
| --- | --- |
| We have what we think is one of the finest club sites in Ohio (or the rest of the country). You can find it at 705 Oakwood St, in Ravenna.  We'll admit that the site isn't the easiest to find, so hopefully these pictures and map will help. | |
| | |
---
Club Flyer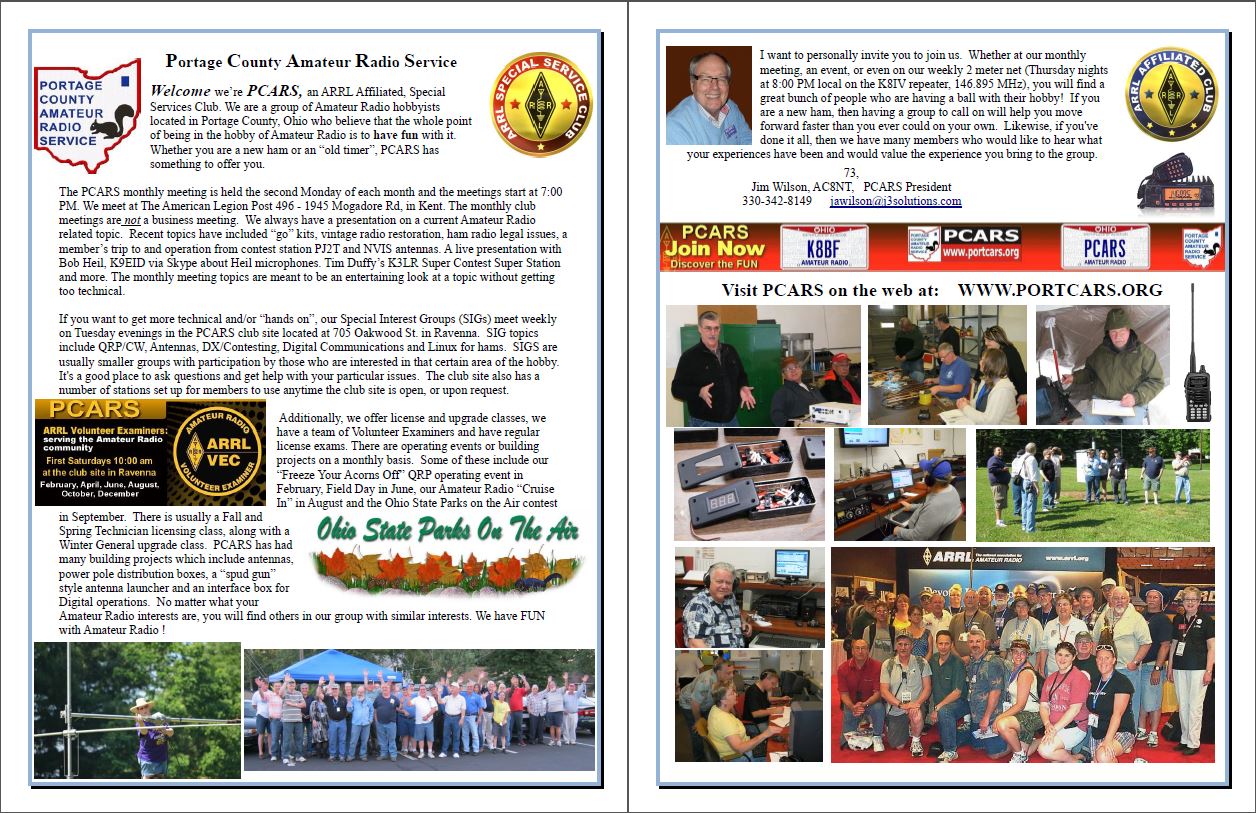 Ever wished you had something to give a fellow ham to tell them about PCARS? Well, here, for your immediate use is a flier (put together by Parky, KB8UUZ).Please print it out and use it freely! PCARS Flier
---
Constitution & By-laws
PCARS Constitution & By-laws – Click here to Download
---
Mission Statement
PCARS Mission Statement – Click here to download
---
Amateur Radio Licensing
If you would like to be an Amateur Radio Operator, you'll need a license from the Federal Communications Commission. The PCARS Volunteer Examiner team conducts regular license testing on the first Saturday of each even numbered month. Check the VE Sessions Page for the next session.
You can study on your own for the licensing test, or attend our Ham Radio Licensing Classes. Check the PCARS event Calendar for the next class session.
---
QSL Manager
If you've worked our club station K8BF, possibly under the previous callsign KD8CKP, we would love to exchange QSL cards with you! Please contact QSL Manager Bob Hewett, K8FEY EMAIL
---
Personnel
Club Officers
President – Jim Wilson, AC8NT –  EMAIL

Vice President – Tony Romito, WA8AR – EMAIL

Treasurer – Amy Leggerio, KD8SKL – EMAIL
Secretary – Gene Marsh, W8NET – EMAIL
Trustees
Three Year Trustee – Ed Polack, K8IV – EMAIL
Two Year Trustee – Tom "Parky" Parkinson, KB8UUZ – EMAIL
One Year Trustee – Erica Pelz, AE8YL –  EMAIL
Past President – Rick Kruis, K8CAV – EMAIL
Officers, trustees, and the past president can be reached at officers@portcars.org
---
PCARS Gear
PCARS Gear is available at all PCARS meetings, or order by mail by contacting the PCARS Treasurer.
Patches
The PCARS club logo looks great on your hat, jacket, shirt, just about anywhere. These iron-on patches are approximately 3 inches square and are embroidered in Red, Black, and Blue. Your price: $2

Stickers

The 4″ x 8″ PCARS oval patch highlights the club logo. Great for your bumper, rear window, in your go-kit or in the shack. Your price: $1

The 3″ x 10″ PCARS bumper sticker is just what you need to cover that old presidential election sticker on your car. Your Price: $1
Shirts & Jackets
Special Order Items
Contact Steve K8SRR for Special Order merchandise. EMAIL
---
Need Batteries?
PCARS has partnered with Interstate Batteries to provide additional funding for the Club through the Interstate Batteries online fundraising 
program.Interstate Batteries offers over 10,000 different kinds of batteries, which can be shipped to your doorstep in just a couple of days.
You already buy these batteries for your remote controls, laptop computers, cell phones, cameras, and other many other devices.
All you need to do is put PCARS in the coupon code and we will get credit for the sale. Our first order placed on this program totaled over $800!